Welcome to Prime Life Nutrition
Empowering you to find your own "Primelife", by giving you the tools to effectively find a happy and healthy balance within your own life.
PrimeLife Nutrition is just that. We aim to help you find your "Prime Life". Being healthy and feeling healthy isn't just about exercising and eating salads for lunch; it's SO much more than that. We focus on all the spectrums behind becoming the best version of yourself and that includes mental health and physical health. If you are ready to start a journey and get to know your body better with the education and guidance of a Registered Dietitian, make an appointment today!
PrimeLife Nutrition specializes in weight loss, disease management and sports performance.
If you're looking for a quick fix, the newest fad diet, or severe calorie restriction, we're probably not the place for you. We focus on gradual, consistent steps towards a healthier lifestyle, so it becomes a part of your life, rather than just ONE part of your life. Our relationship with food is molded all throughout our lives and it's up to us to make sure we form a healthy relationship with it.
We've often been told that sessions feel like more than just learning about diets, and that's what we pride ourselves on. We want you to have a great relationship with your dietitian and feel comfortable to talk about anything that's going on in your life, as it often directly affects the way we eat.
Not only do we want you to have a great relationship with your dietitian, we want even more for you to have a better relationship with yourself.
We'll take the guesswork out of improving nutrition and make it easier for you to incorporate healthy choices into your everyday. Taking it back to the basics of nutrition, we keep it simple to find what works best for you and adapt every appointment according to your specific needs.
Kristen Richardson
MPH, RDN, LDN
Kristen grew up very picky as a kid, and was never great about trying new foods. Fast forward about 20 years later and she's passionate about food and the relationship it has with our bodies.
PrimeLife Nutrition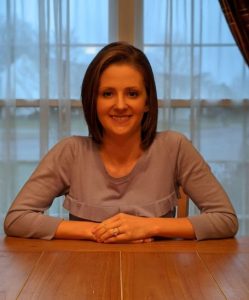 Leah Daywalt
RDN, LDN
Leah also grew up as a picky kid/teenager, despite the nutritious, home-cooked meals that her mom made for her on a daily basis. It wasn't even until she navigated a bumpy college career path that she could fully appreciate those home-cooked meals and the importance of nutrition.
PrimeLife Nutrition
In high school, she was always on the go and never really had to worry about what foods she was eating. It was a totally different story in college, however. It only took one semester during her freshman year to realize that what she puts in her body is how she's going to feel. A 30 pound weight gain was quite the wake-up call, but ultimately led her down the path of nutrition. 
She learned to eat right, stay active, and eventually found the love of her career: Nutrition. There isn't a day that goes by that she's not grateful for the career choices she's made. She's passionate about food and wants to help others share the same enthusiasm. 
She's had more than 5 years of clinical experience, and has been doing nutritional counseling for over 4 years. She works with weight loss, diabetes management, heart health, sport performance, and overall improved nutrition. Anything you want to work towards, Kristen will help you reach those goals. She takes the guesswork out of how to eat better and makes it easier for you to envelop it into your everyday life. Want to try something new? Improve diet or performance? Make an appointment with Kristen now!
Leah started off her college education in a small school of music, and as the stress quickly mounted there, she sought out exercise. A growing interest in exercise then lead her to a growing interest in learning more about eating properly to fuel her body. 
Long story short, Leah ended up changing schools so that she could become fully immersed in her passion for nutrition and dietetics. She earned her Bachelor's degree at West Chester University and went on to complete her dietetic internship at Cedar Crest College to become a Registered Dietitian. She's worked in the clinical field for 5 years, and took a brief hiatus to focus on a new part of her life – motherhood! After staying at home for a year with her son, she was ready to get back into the world of nutrition, and PrimeLife Nutrition presented as a perfect opportunity. Her biggest passion is finding an attainable, happy balance between accentuating overall health and wellness while still enjoying the pleasures of life (especially delicious food!). Contact us today to make an appointment with Leah!